What does your work aim to say? The aim of producing my art is to bring enjoyment to others, many of whom may have visited the scenes which I produce. My art serves as a reminder to them of places they know and the memories of their visits. My garden art is meant to be fun, quirky and different. Our gardens at home have many unusual pieces scattered throughout.


How much time does it take to create a painting? The time spent on a mosaic piece is totally dependent on the scene and the size of the piece. One of my beach hut scenes can involve about 16 hours to create. The surfboard took 6 months.


What is the most heart-warming/crazy/funny experience with your art/arts journey? One of the most unusual occurrences was when a visitor approached me at the Eumundi Markets and asked me to mosaic the base of his swimming pool with a gecko about 15 meters long. I declined the offer due to the work involved.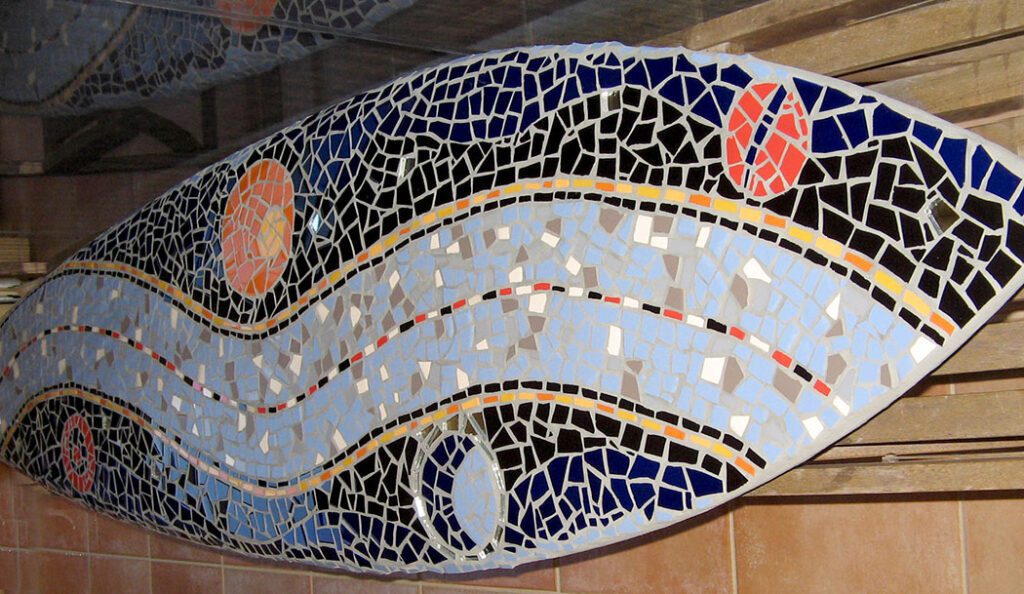 What has been your most influencing experience? The greatest influence on my mosaic creations is my wife Janice. She first got me interested in this art form and regularly gives advice on colours, designs etc. Otherwise, most of my indoor creations are influenced by scenes that we have photographed on our travels, both overseas and in Australia.
What jobs are you doing/have done other than being an artist? Prior to retirement, I spent over 40 years working for Amcor in various positions within management although I did commence with them as a forklift driver. I was soon moved from this role when they realised my lack of ability on a forklift.