Slide 2 Heading
"The aim of art is to represent not the outward appearance of things, but their inward significance." ― Aristotle
Slide 3 Heading
"Any form of art is a form of power; it has impact, it can affect change – it can not only move us, it makes us move ." ― Ossie Davis
Slide Heading
"Paradoxically though it may seem, it is none the less true that life imitates art far more than art imitates life." ― Oscar Wilde
Dayboro Art Gallery is the home of over thirty member artists fram many areas of the Moreton Bay region, many of them from the Dayboro region itself and surrounding valleys and mountains.
Located right on the main street of Dayboro this brand new state of the art purpose built gallery, displaying a vast variety of quality and award winning artworks was opened in July 2017. Previously the gallery was on the same location but in the old Lawrence Thorpe's Plumber's Shop (circa 1950's) on the edge of Terror's Creek that was unfortunatly dammaged due to flooding and as such replaced.
Dayboro Art Gallery history
The Dayboro Art Gallery was officially established in 1994 in the old residence. At the start, there were approx 10 members running the gallery voluntarily, displaying various art styles and opening three days a week. In those days, the Gallery was very basic and was gradually improved by members and council contributions.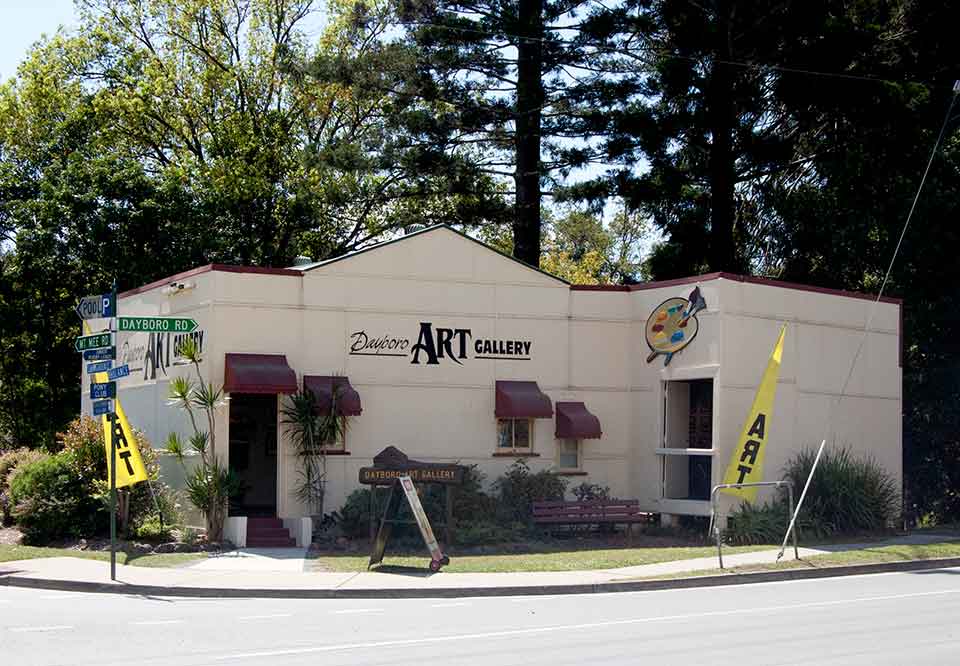 Growing substantially over the years, the gallery now has more than 35 members, with an art display waiting list, so is never short of displaying something new and exciting. We are open seven days a week, staffed by member volunteers.
To ensure consistent variety and quality a committee was established to oversee the display of new artwork, and balance between the varied types of art.
Many members have won awards and display in art exhibitions across South East Queensland, yet still consistently displays artworks for sale in the Dayboro Art Gallery.
The gallery has a governing committee to comply with the Non-For-Profit regulations, as well to guide the gallery into the future, and to ensure the quality, equal opportunity and promotion of local art.
The gallery is operated by member artists and open for viewing seven days a week 10am till 3pm. From time to time artists may be found working on pieces during the day creating or finishing new pieces.
The future of the Dayboro Art Gallery
The new purposely build gallery opened July 2017, on the current site at 37 William Street Dayboro, proudly sponsored by the Moreton Bay Council. Members will continue displaying a wide variety of original affordable art, ensuring the cultural and artistic diversity remains strong in the community into the future.
Thanks to the grant support from the Moreton Bay Regional Council and the Gambling Community Benefit Fund we have been able to build a minor extension to the back end of the gallery. This allows the gallery and its members to function more efficiently with parts used as artwork storage. It also allows the reestablishment of an arts kiln as was had in the previous gallery on this location.
Dayboro Art Gallery is committed to ensuring digital and physical accessibility for people with disabilities. We are continually improving the user experience for everyone and applying the relevant accessibility standards.
ACCESSIBILITY ELEMENTS:  Ramp, Wheelchair toilet, parking next to the ramp, most weekdays are quiet times.
Please call if bringing groups through so we can ensure we have adequate staff to assist should it be needed.
The Dayboro Art Gallery is partially conformant with WCAG 2.1. Partially conformant means that some parts of the content do not fully conform to the digital accessibility standard.
Feedback
We welcome your feedback on the accessibility of the Dayboro Art Gallery website. Please let us know if you encounter accessibility barriers on the Dayboro Art Gallery Website:
We try to respond to feedback within 5 business days.
---
This statement was created on 22 December 202
Where to stay when you visit
Welcome to a luxury, Hamptons style, country house retreat. 2 or 3 bedrooms that sleeps up to 8 guests. Picnic in the olive groves then star-gaze the milky way before sliding under the covers of your crisp bed sheets! Surround yourself in the sanctuary of 40 exclusive acres with picturesque views across the entire valley. Watch the bird life, listen to cows, and toast marshmallows in the fire pit — logs and kindling at the ready. This friendly eco accommodation is totally off-grid, yet has all the facilities of full mobile coverage, smart TV plus free high-speed Wi-Fi and Netflix.
8 minute's drive to Dayboro
Breathtaking Views, 5 cottages in total and each one is beautifully appointed and fully self-contained.
5 minutes drive to Dayboro
Currawong Cottage is located at picturesque Kobble Creek Cottages.
It is situated on the highest point of the Kobblecreek property with breathtaking elevated views of the D'Aguilar Ranges overlooking 52 acres of native bushland abundant with native birdlife and wildlife.
It lies approximately 10 minutes drive from the rural village of Dayboro,
You deserve to escape and be spoilt at Ocean View Estates.Handcrafted wine, elegant food, accommodation to unwind and stunning surrounds. Three Cottage available and At Ocean View Estates Vineyard Cottages you'll be within just a 15-minute stroll of Dahmongah Nature Refuge and Jamduh Nature Refuge. Highlights at this hotel include free self parking, a bar/lounge, and in-room kitchenettes 
 12 minutes drive to Dayboro
A variety of accommodation is on offer to suit all kinds of stays, romantic log fire cottages for two, a four bedroom family cottage, a self-contained studio for the tradesman or businessman or a large luxurious barn loft for larger groups. The complex has an outdoor swimming pool (unheated), full sized tennis court, outdoor kitchen with bbq and woodfired pizza oven. The lake has a purpose-built boardwalk around it for you to enjoy a leisurely stroll and admire the birdlife.
11 minutes drive to Dayboro
En-suite private air conditioned rooms with french doors onto veranda. Turn of the century, plantation-style classic home close to the city (3.5 km)
37 minutes drive to Dayboro
A beautifully restored, expansive three-bedroom Queenslander awaits your arrival. The entire house is exclusively yours to enjoy during your stay, set on private grounds, secluded amongst gardens and banks of trees. With all the charm of yesteryear combined with modern conveniences (including unlimited wifi and a walk-in shower room),
3 minutes drive to Dayboro
Page artwork by Trudy Brooks